The children's radio diary programmes are available as:

audio only
isiZulu unless otherwise indicated

audio-visual
with photographs and English subtitles


- We recommend you download audio-visual files prior to viewing.
- To view the audio-visual programmes on PC, you will need Adobe Flash Player.
- On Mac, open in your browser or download Eltima Flash Player.
- Please adhere to the guidelines for the broadcast and use of the programmes.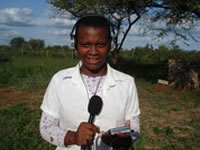 Ngisukaphi? / Where do I come from? (4'33'') 2006
Mbali's parents died when she was very young. Now 13 years old, she begins a difficult journey to find out what she can piece together about them from relatives who knew them.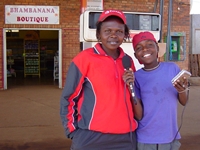 Isifundo sikaMama / Mother's lesson (4'19") 2006
Growing up as one of the only boys in a large homestead of relatives, 12-year-old S'fundo sheds light on collaborative living and survival, and explains how he was his mother's lesson.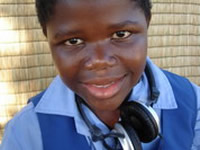 Isibusiso / Blessing (4'19") 2006
Twelve-year-old Promise was devastated when her uncle died in 2004. She remembers him being at the heart of their home - as does her grandmother, who they both lived with at the time.

Ukuphila nethemba nenhlanhla / Living with hope and good fortune (4'28") 2005
Twelve-year-old Sinenhlanhla is a twin. A twin who is especially grateful for the support of her sister and her loving mother after the unexpected death of her father.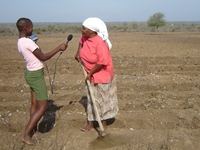 Ukuthula nezinto / Questionable silences (4'25") 2005
Living in a community hard hit by the AIDS epidemic, 12-year-old Nobuhle wonders why it is that adults don't tell children when someone has HIV.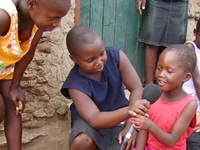 Growing up in a time of AIDS (21'16") 2005 [English only]
In the far north-east corner of South Africa, close to the Mozambique border, children grow up amidst extensive poverty and a fierce HIV epidemic. Like so many others, the children who made this programme live through these stark realities with remarkable spirit. Here they share their world and some of their stories.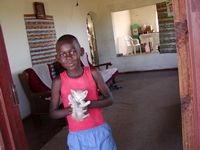 Growing up in a time of AIDS - Excerpt 1 (4'18") 2005 [English only]
This short programme draws together snippets of the full English-language programme. Prettygirl and Lindo share stories of life after the death of a parent, while Zama takes us to the pump to fetch water.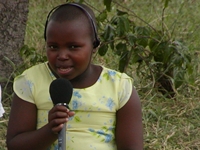 Growing up in a time of AIDS - Excerpt 2 (5'22") 2005 [English only]
Prettygirl deeply misses her mother who died of an AIDS-related illness a few years ago. Unlike many other parents she told her daughter that she had AIDS and asked her to take care of her younger sister, Nomvula. Here the 11-year-old describes what an ordinary day entails for her, living with her elderly great-grandparents. The programme is compiled from excerpts of the full English-language programme.