The children's radio diary programmes are available as:

audio only
isiZulu unless otherwise indicated

audio-visual
with photographs and English subtitles


- We recommend you download audio-visual files prior to viewing.
- To view the audio-visual programmes on PC, you will need Adobe Flash Player.
- On Mac, open in your browser or download Eltima Flash Player.
- Please adhere to the guidelines for the broadcast and use of the programmes.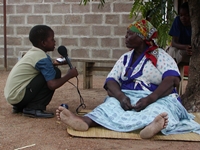 Awungitshele, Gogo... / Tell me, gogo... (4'30") 2005
Lindo is an avid soccer player and a wanna-be kwaito star. He is also an 11-year-old child whose mother died a year ago. Here he gives us a glimpse into how it is to hold these experiences and dreams.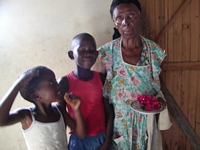 Isikhundla sikamama / The place of my mother (5'46") 2005
Eleven-year-old Prettygirl is the oldest of three children living with their elderly great-grandparents. She introduces her home of sadness, resilience and an abundance of love.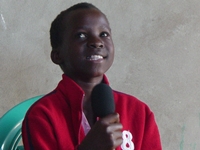 Sengiyakhula / Growing up (6'12") 2006
When 12-year-old Nonjabulo was sent off on her first errand alone, she was nervous. today she routinely hitchhikes to the store to buy goods for her mother. Chores like this are all part of growing up in Maputaland. She remembers her first trip vividly and with bucket-loads of wit...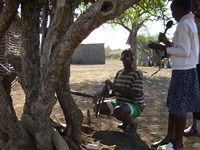 Inhliziyo yami ayisheshi ukukhohlwa / My heart doesn't easily forget (4'46'') 2006
Bright-eyed 12-year-old S'bongukwanda is a devoted son. He sparkles with spirit despite his poverty and family struggles. In making his programme, he surprises his mother with his clear memory of difficult times when he was a younger child.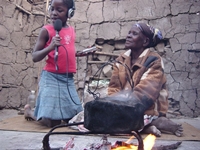 Ukukhuluma ngqo / Straight talk (3'57") 2007
Promise, aged 9, was devastated when the adults around her failed to tell her when her father died. A common experience for many children in this area, she questions her mother about her choice to remain silent on the issue.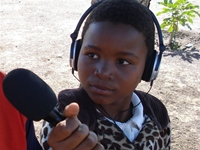 Impilo i-right / Life is good now (5'53") 2007
Noxolo, 9, was terrified when her father used to come home drunk. She tells of life then, and her relief at how it has changed for the better since he stopped drinking alcohol and took to coaching soccer instead.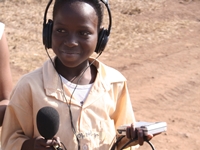 Ukukhumbula umama / Missing Mum (5'52'') 2009
Tiny 10 year old Slindile's mother died when she was three or four years old. She is troubled by the way in which she has never been told the full story of her mother's disappearance. With both wit and wisdom, she reflects on her mother's death by sharing her memory box and trying to find out more from her grandfather.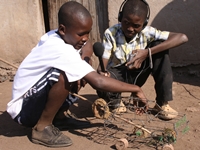 Ukuzifela ngezimoto / Crazy about cars (4'42'') 2009
December is passionate about cars. He dreams of working as a vehicle manufacturer when he grows up. In the meanwhile, he spends much of his time making and driving elaborate, functional, wire cars. Here he shows his friend Siyabonga his latest construction …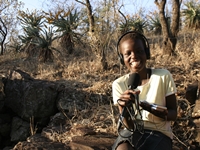 Ukuhlanganisa isikhathi semishanguzo nesokudlala / Juggling pill-time with playtime (5'29'') 2009
Nobuhle, aged 11, describes her everyday experiences as the oldest of three maternally-orphaned children living alone with their disabled grandmother.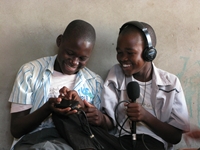 Umfana nembuzi yakhe / A boy with a goat (4'36'') 2010
Eleven year old Mpumelelo's precious pet goat vanished one weekend when he was visiting relatives. At the time, his parents refused to explain what had happened to it. Here, years later, he finally finds out the truth. He implores adults to be open with children in moments like these.