The children's radio diary programmes are available as:

audio only
isiZulu unless otherwise indicated

audio-visual
with photographs and English subtitles


- We recommend you download audio-visual files prior to viewing.
- To view the audio-visual programmes on PC, you will need Adobe Flash Player.
- On Mac, open in your browser or download Eltima Flash Player.
- Please adhere to the guidelines for the broadcast and use of the programmes.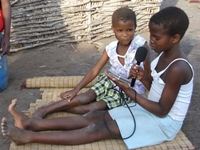 Yithi sodwa / Just us (5'19") 2007
In 2007, 11-year-old Hleziphi and her siblings made up one of the 60 000 child-headed households in South Africa. Here Hleziphi leads a discussion with her brother and sisters about how it is to live alone without adults at home.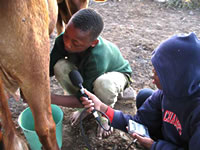 Kungcono ehlathini / It's better in the forest (5'26") 2007
Fourteen-year-old orphan Mthokozizi finds solace spending time alone in the forest. He describes how he came to know his way around, and why it is a precious place for him.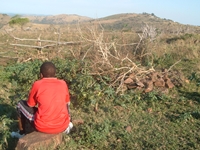 Ngabek' itshe / A stone for my father (6'14") 2007
Every night Sibusiso is haunted by his father's death. In his programme, he is finally able to make the journey to see his father's grave for the first time and to pay his last respects. En route, he has an adventure …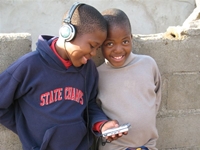 Ngikhumbula ubaba / Remembering Dad (4'28") 2007
Thirteen-year-old Siwakhile's most prized possession is a photo album full of memories of his father. Here he talks to his mum about his father's life and death and what it meant for them all as a family.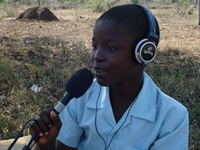 Sashay' isitebhu sangempela / A really Grand March (5'30") 2007
Ziphe, 12, remembers the best day of his life … when he was invited to be in his step-brother's wedding procession. He describes it with alacrity and humour…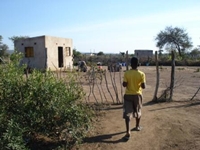 Ukuhuluma kakhulu, ukuzwa kancane / Speaking loudly, hearing little (4'31") 2007
Nkululeko�s mother has a hearing impairment. Here Nkululeko, 12, and his mother discuss the challenges of living with deafness.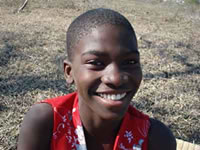 Omthembayo / Confidant (3'58") 2007
Nosambulo, 11, was anxious when her mum was repeatedly ill over a long period of time. Here she reflects with her mother on fear, responsibility and family support in times of illness.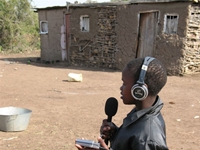 Njengomama / Just like a mother (4'56'') 2007
Phindile, aged 11, has a special bond with her Skwiza, her sister-in-law. Together they talk about teamwork in ensuring day-to-day survival in a poor household.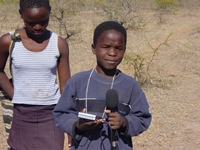 Imidlalo kaNunu / Nunu's games (5'03") 2006
Tiny 9-year-old S'bongakonke is a big fan of Zulu musician Shwi, and uses his music to describe how he misses his brother who died last year. He and his sisters reminisce about their brother, and visit the waterhole near their home where they used to play endless games together.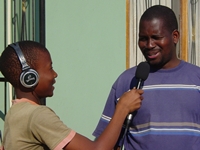 Igugu likaBaba / The apple of Dad's eye (5'49) 2006
S'fundo, 12, is his devoted father's only child. He didn't live with him when he was a young child. S'fundo delights in describing the important role his father has played in his life, as well has how, through creative responses, his school has helped him overcome early learning difficulties.