Children's radio documentaries
The children's radio diary programmes are available as:

audio only
isiZulu unless otherwise indicated

audio-visual
with photographs and English subtitles


- We recommend you download audio-visual files prior to viewing.
- To view the audio-visual programmes on PC, you will need Adobe Flash Player.
- On Mac, open in your browser or download Eltima Flash Player.
- Please adhere to the guidelines for the broadcast and use of the programmes.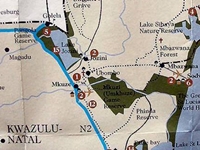 Nkanyamba noma Isivumuvumu? Indaba yedamu laseJozini Snakes or tornadoes? The story of Jozini dam (10'10'') 2008
Not far from the area where many of the Abaqophi live, there is a huge dam built in the early 1960s. It is rumoured to be home to a vast two-headed snake. The Abaqophi visit the dam and the community living on its banks to investigate the history of the dam and the truth of this story.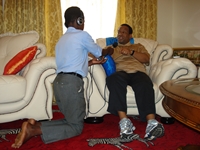 Ithuba lokukhuluma nesilo A chance to talk to the king (8'17'') 2008
Lindo, Promise and Nobuhle were thrilled when they were able to secure an interview with the Zulu king. They were keen to talk to him about his rationale for hosting the annual reed-dance at which young girls undergo 'virginity testing'. They ask him about what he thinks of the attempts to ban virginity testing, and why it is only a practice performed on girls.

'Ngingakhuluma manje' - Amabhokisi ezintandane ezikhumbuzo 'Now I can talk' - Memory boxes for orphans (8'19'') 2008
Living in a context where death is an everyday occurrence, and orphanhood widespread, the Abaqophi decided to find out more about children's experiences of one of the interventions initiated by the local NGO for children who have lost parents.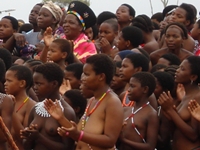 'Phezulu ngobutshitshi phezulu!' 'Long live virginity, long live!' (4'23'') 2008
Some of the girls in the Abaqophi are avid supporters of a local practice of 'testing' whether young girls are virgins. When the reed-dance, a huge annual virginity-testing event presided over by the Zulu king, was held in Ingwavuma in 2008, they eagerly participated, taking their mini-disc recorders along with them.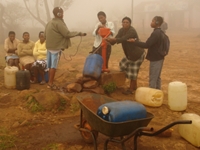 Amanzi: 'Kwabanye umsindo ojwayelekile kodwa kithina echaza impilo engcono' Water: 'For some its an everyday sound, for us it's a luxury' (9'08'') 2009
Concerned about the consistent difficulties in accessing water in their community, the Abaqophi set out to find out more about the situation.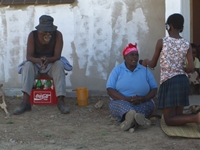 Ilobolo liyathuthuka yini? Is lobola still alive and well? (5'55) 2009
The Abaqophi talk to elders in their neighbourhood to investigate the tradition of lobola � the transfer of cows from the groom�s family to his wife's family as part of marriage.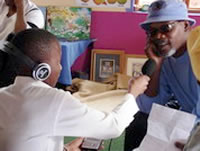 Osaziwayo beza kithi Celebrities come to town () 2006
When American celebrity members of Artists for a New South Africa visited Ingwavuma, the Abaqophi reported on the occasion. They were keen to find out about what these celebrities' families thought about them giving their funds to South Africa… and whether they have tested for HIV…